BASIC Information
Display
Screen size: 1.3 inch
Screen resolution: 240 x 240
Operating mode: Touch Screen
OS
Android,IOS
Connectivity
Connectivity
Bluetooth Version: Bluetooth 4.0
Others
Others
RAM: 64K
ROM: 512K
IP rating: 68
Alert type: Vibration
Anti-lost: No
Bluetooth calling: Phone call reminder,Reject answer the phone
Health tracker: Drinking reminder,Heart rate monitor,Pedometer,Sedentary reminder,Sleep monitor
Messaging: Message reminder
Notification: Yes
Other Function: Alarm,Bluetooth,Calendar,Calender,Waterproof,Weather forecast
Package Contents: Package Contents: 1 x Smart Watch, 1 x Charging Cable
Physical Specifications
Material
Band material: Silicone
Case material: Diamond Carbon Coating
Shape of the dial: Round
Weight
Product weight: 0.0520 kg
Package weight: 0.1800 kg
WARRANTY INFORMATION
Warranty
07 Days Replacement
Microwear L5 Smart Watch
Microwear L5 Smart Watch 1.3 inch Nordic NRF52832 64KB RAM 512KB ROM Heart Rate Monitor IP68 Waterproof Bluetooth 4.0 380mAh Built-in
Clear Display
● 1.3 inch TFT 240 x 240 high-resolution display
Heart rate monitor
● HRM heart rate monitor function will give you the real-time feedback, let you know about your heart rate anytime and anywhere
Display Health Parameters
● This smart wristband can display the time, date, steps, distance and calories clearly. Let you know your sports data immediately
Sedentary and Drinking Remind
● When you are sitting for a longer time than the preset duration, the watch would remind you with vibration or a ring that it's time for exercise and drinking
Alarm Remind
● Setting the alarm clock on the phone, the watch will remind you with vibration
Calories consumption
● Master your exercise and calories consumption at any time and anywhere, monitoring your raining status at any time
Sleep Monitor
● Are you curious about your sleep quality? sleep monitor function will give you the answer
Remote camera
● Control your smart phone to take phones on your wrist
WeChat Function
● If you have new chat messages, it can notify you quickly to enjoy touch with your friends
You can visit our facebook page if you want.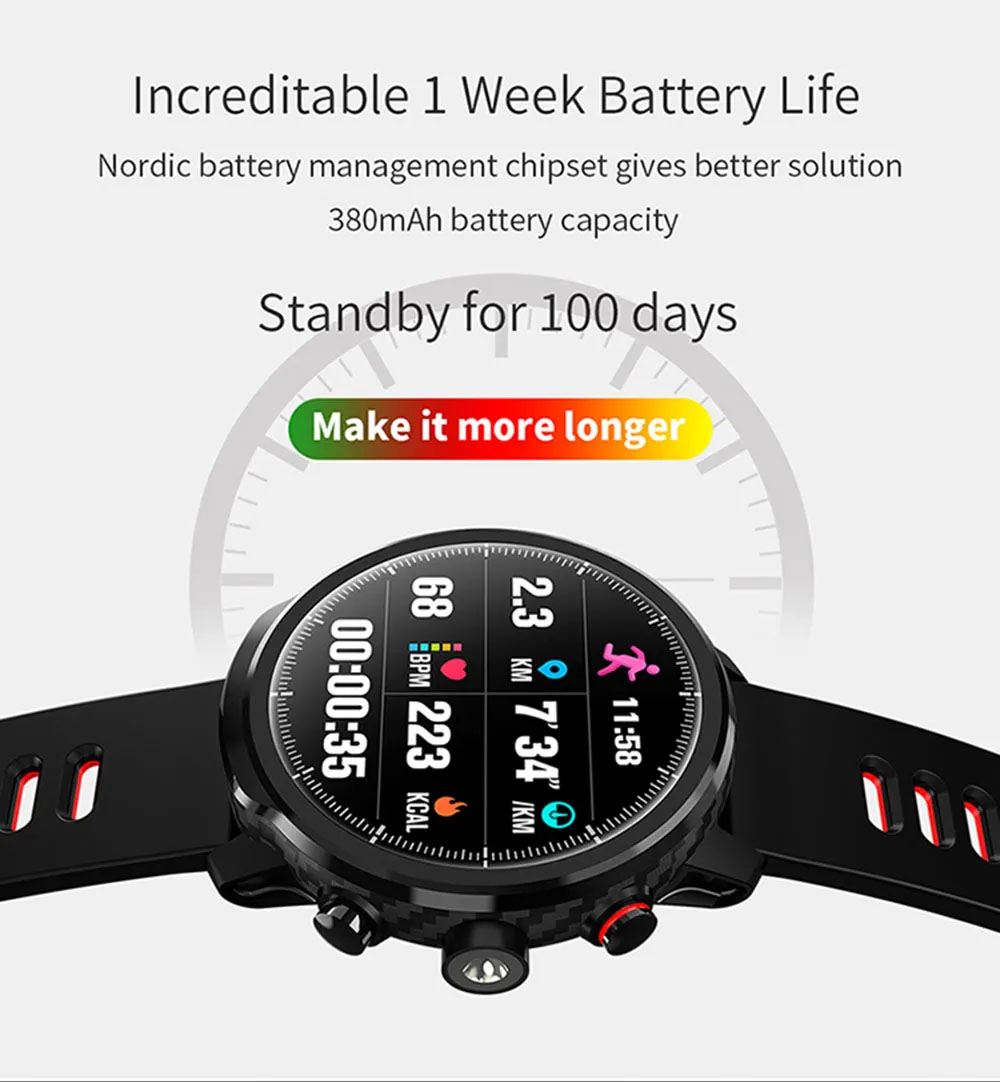 Quick Compare
Product Details
Product
Microwear L5 Smartwatch
HW8 Ultra Max Smart Watch 49mm
Xiaomi Haylou GS LS09A Smart Watch
Amax Watch 9 Ultra Smartwatch
Image
Price
2,790৳
3,000৳ 2,790৳
3,399৳ 2,790৳
2,990৳ 2,800৳
Model
Microwear L5
HW849
Haylou GS LS09A
Amax Watch 9
Brand
Microwear
Haylou
Amax
Availability
Upcoming
In Stock
In Stock
In Stock
Rating


Based on 1 reviews.


Based on 0 reviews.


Based on 1 reviews.


Based on 0 reviews.
Summary
Microwear L5 Smart WatchMicrowear L5 Smart Watch 1.3 inch Nordic NRF52832 64KB RAM 512KB ROM Heart Rate Monitor IP68 Waterproof Bluetooth 4.0 380mAh Built-inClear Display● 1.3 inch TFT 240 x 240 high-resolution displayHeart rate monitor● HRM heart rate monitor function will give you the real-time feedback, let you know about your heart rate anytime and anywhereDisplay Health Parameters● This smart wristband can display the time, date, steps, distance and calories clearly. Let you know your sports data immediatelySedentary and Drinking Remind● When you are sitting for a longer time than the preset duration, the watch would remind you with vibration or a ring that it's time for exercise and drinkingAlarm Remind● Setting the alarm clock on the phone, the watch will remind you with vibrationCalories consumption● Master your exercise and calories consumption at any time and anywhere, monitoring your raining status at any timeSleep Monitor● Are you curious about your sleep quality? sleep monitor function will give you the answerRemote camera● Control your smart phone to take phones on your wristWeChat Function● If you have new chat messages, it can notify you quickly to enjoy touch with your friendsYou can visit our facebook page if you want.See more Smartwatches..
Stylish design with 3 buttons49mm case, 2.05-inch ultra wide full touch color screen, very narrow screen frame, 420 * 480 resolution With 2 safety belt locksMulti function NFC function (door unlocking technology);The new power saving mode can switch the smart watch to the watch mode. The screen only displays the time, which can maximize the battery life of the watchNew time setting function, which can directly adjust the time and date from the watchOne button SOS..
Xiaomi Haylou GS LS09A Smart WatchThe Xiaomi Haylou GS LS09A Smart Watch comes with a 1.28" TFT Full Circle Full Touch screen and 2.5D curved glass. It offers a bright and clear view with a Skin-friendly silicone strap. Weighing only 38g, HAYLOU GS offers extra wearing comfort and assists your workout with no limits. This watch is compatible with Haylou Fun Application. The Watch faces are continuously updated in the APP to meet diversified aesthetics. Customize the Haylou GS's watch face with your favorite picture. You can also record your steps, distances, calories, and other exercise data in real-time all day long. Set daily exercise goals and try to realize them. Features:Custom watch face Replacement: It supports custom dials, and the scenery you encounter and the beautiful pictures you like can be turned into beautiful dials and presented on the wrist.20 days long battery life: Once fully charged, you can rest assured to use it for two weeks, rejecting the tedious daily routine of charging once a day. There is no burden to travel on business, and you can fill your itinerary to the fullest.12 sports modes: 12 sports modes, indoor and outdoor, all love is covered. High-precision motion sensor, every step counts, every bit of progress is accurately recorded, and completely fall in love with the thrill of sports sweating.Blood oxygen saturation detection: Excessive physical and mental exhaustion will lead to a state of low blood oxygen in the body. Haylou GS supports the detection of blood oxygen levels at any time, helping you to adjust your state in time and always maintain full vitality.IP68 dustproof and waterproof: IP68 dustproof and waterproof. Sweat or showers can be easily dealt with, and you don't need to take off your watch when you wash your hands frequently, making Splash the best playmate in life.Xiaomi Haylou GS LS09A Smart Watch Review:..
Amax Watch 9 Ultra SmartwatchAmax Watch 9 Ultra Smartwatch come with chip Hs6621PG and Memory is 128M. Bluetooth version of this watch is 5.2. Screen display is 2.1 inch screen-320*380-IPS with Full Screen Touch. Battery capacity of this watch is 200mAH. Motor is Pie Motor. This smartwatch is Wireless Charging supported. Waterproof Level is IP67. Sensor is G-sensor 3 Axis. System requirements is android5.0+ / ios10.0+. Push message language is Chinese, Traditional Chinese, English, French, German, Japanese, Spanish, Italian, Russian, Malay, Portuguese, Turkish, Greek, Latin, Vietnamese, Indonesian, Thai, Arabic, Polish, Dutch, Romanian, Persian. Characteristics:Wireless ChargingNFCOff-Screen Time SettingSmart Split ScreenScan Code Connection3D Dynamic DialVoice CallsBand Language SwitchBlood GlucoseChecking View Health Data of Family Members and FriendsPressVoice Assistant Motion DisplayLockScreen PasswordShort Video ControlWallet FunctionMettCustom Component FunctionalityPedometerPrivate Tuition Course PushScreen Off ModeCaloriesOTA UpgradeBedsideDistancePlay MusicTime SettingSports modeBreathing exerciseEnergy saving modeRaise your hand to brighten the screenMeteorologicalSleep monitoringHeart rateGamesIncoming callBlood pressureFitness classesMessage notificationBlood oxygen BodytemperatureSedentary reminderFatigue analysisAlarm settingCalculatorAltitude barometerStopwatchWeChat campaignCustomization of the third buttonFind a braceletCustom watch face new news pushDial switchHealth Weekly DockWeatherDimmingFemale Menstrual ForecastDial SwitchWeatherCompass DialSee More Smartwatch..