VR
Display method
Display 90Hz refresh rate, 4320 2160 (2160 2160 per eye)
Audio​
Audio Integrated high fidelity speaker, Dual mic
others-vr
OS Pico OS 5.0 Processor Qualcomm XR2, 8 Cores 64 bit; 2.84GHz, 7nm process technology Optics Pancake Lens, 105°FOV, 20.6 PPD, 62-72mm inter-pupillary distance adjustment Positioning and Sensor 6DoF Positioning System Wireless Connections Support Wi-Fi 6, 2.4GHz/5GHz dual band, Support Bluetooth 5.1 Battery 5300mAh , At least 2.5 hours usage time
Storage
8GB + 128GB
Wireless
Wireless Connections Support Wi-Fi 6, 2.4GHz/5GHz dual band, Support Bluetooth 5.1
WARRANTY INFORMATION
Warranty
No Warranty
Pico 4 VR Headset 128GB Global version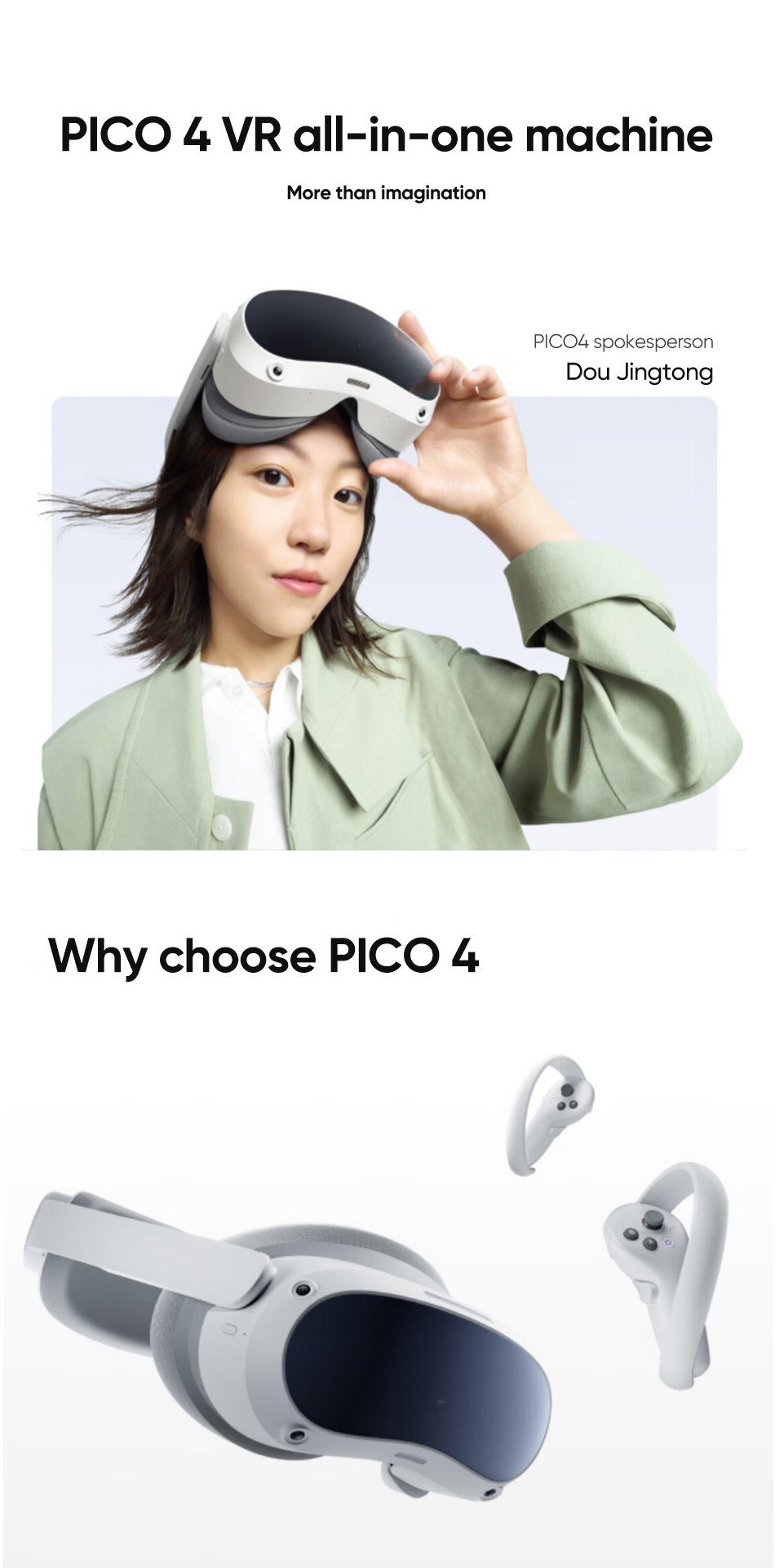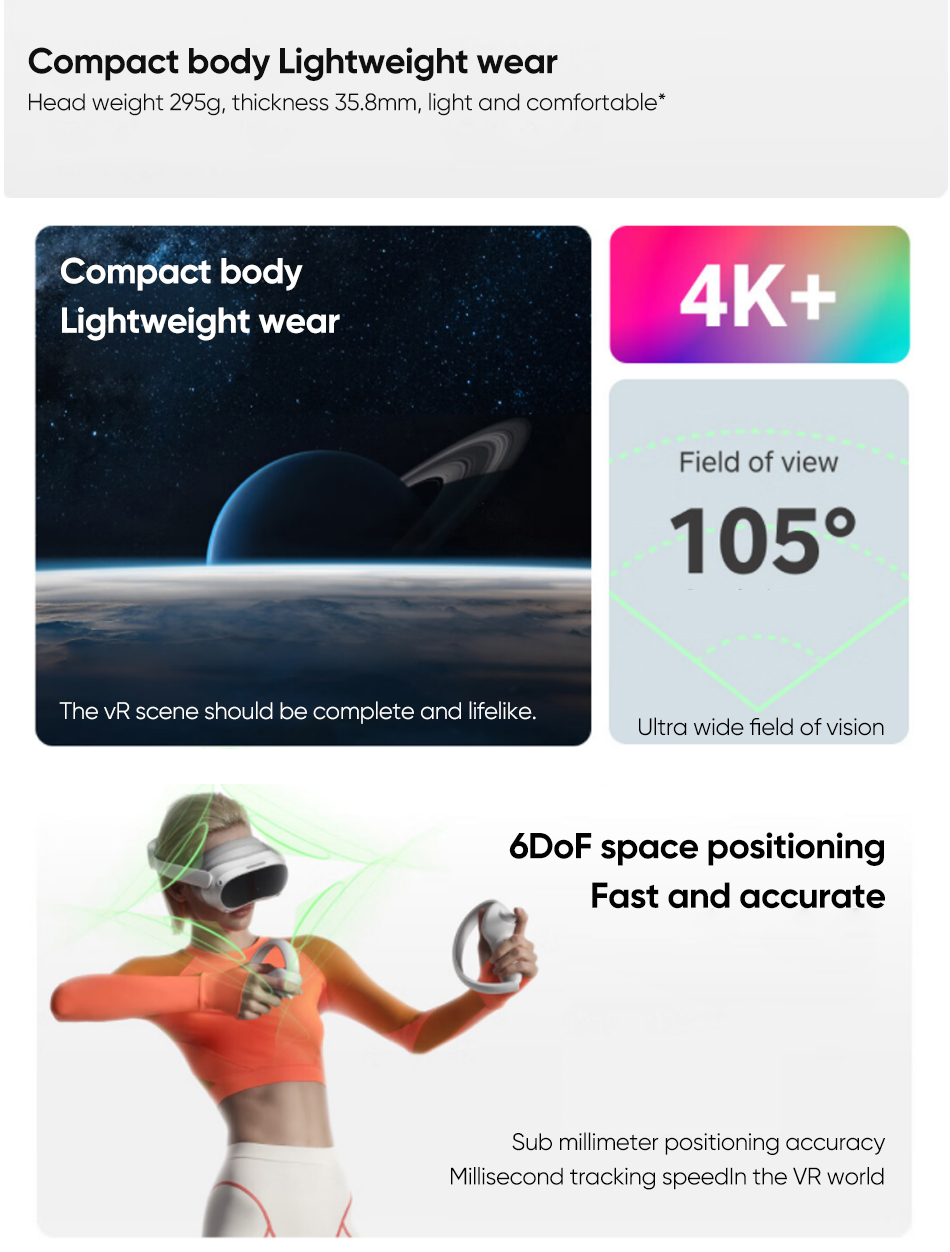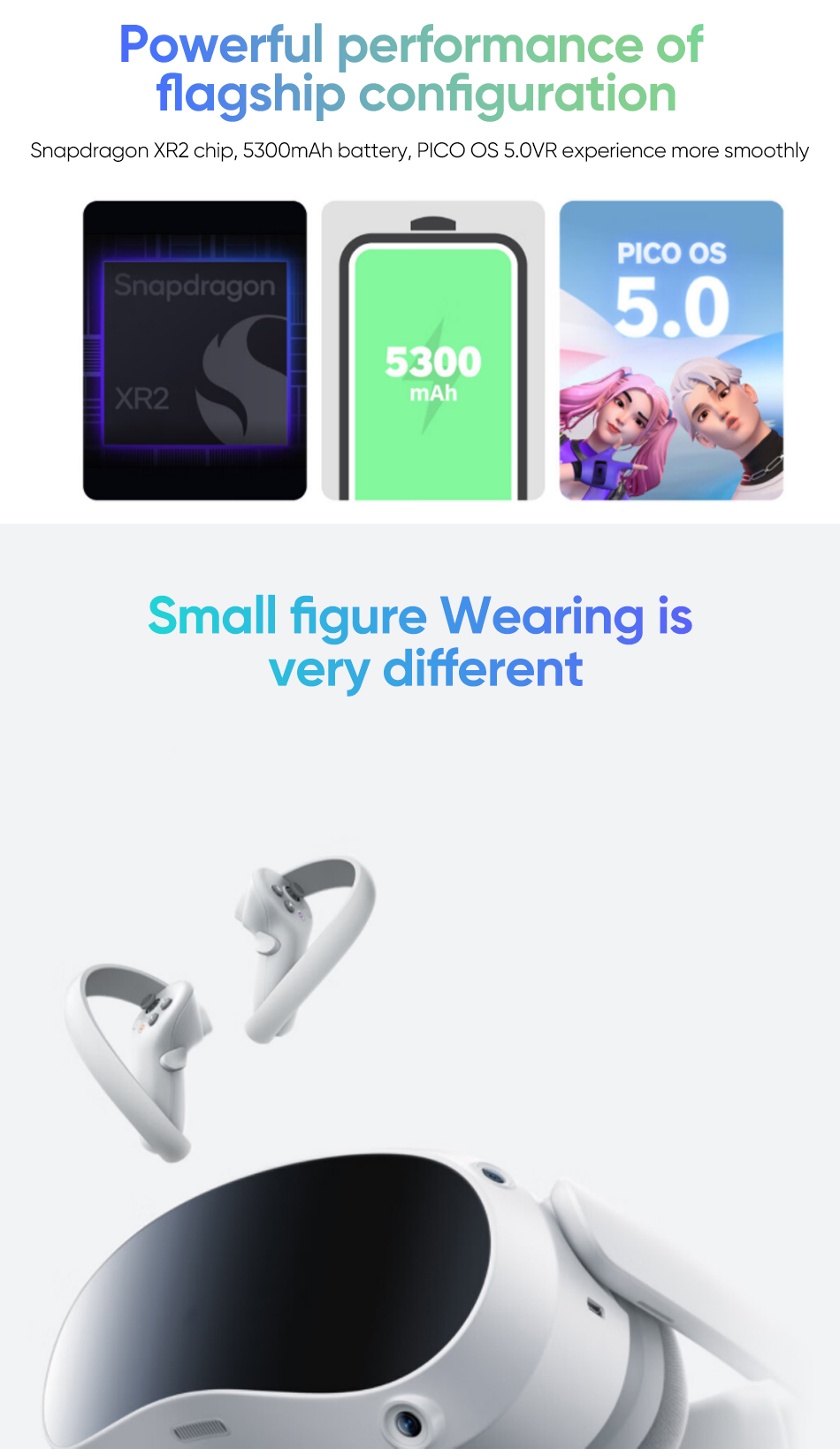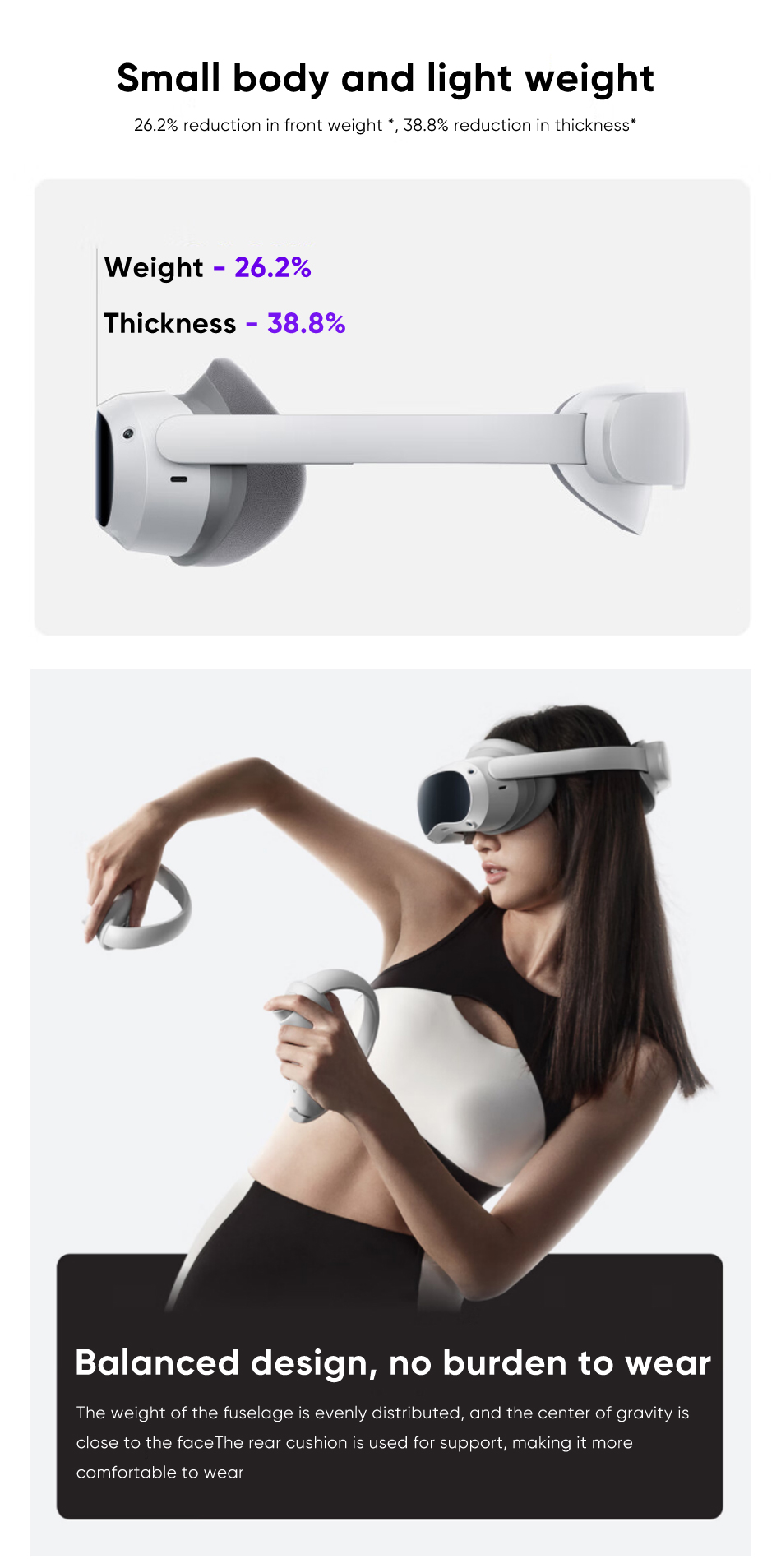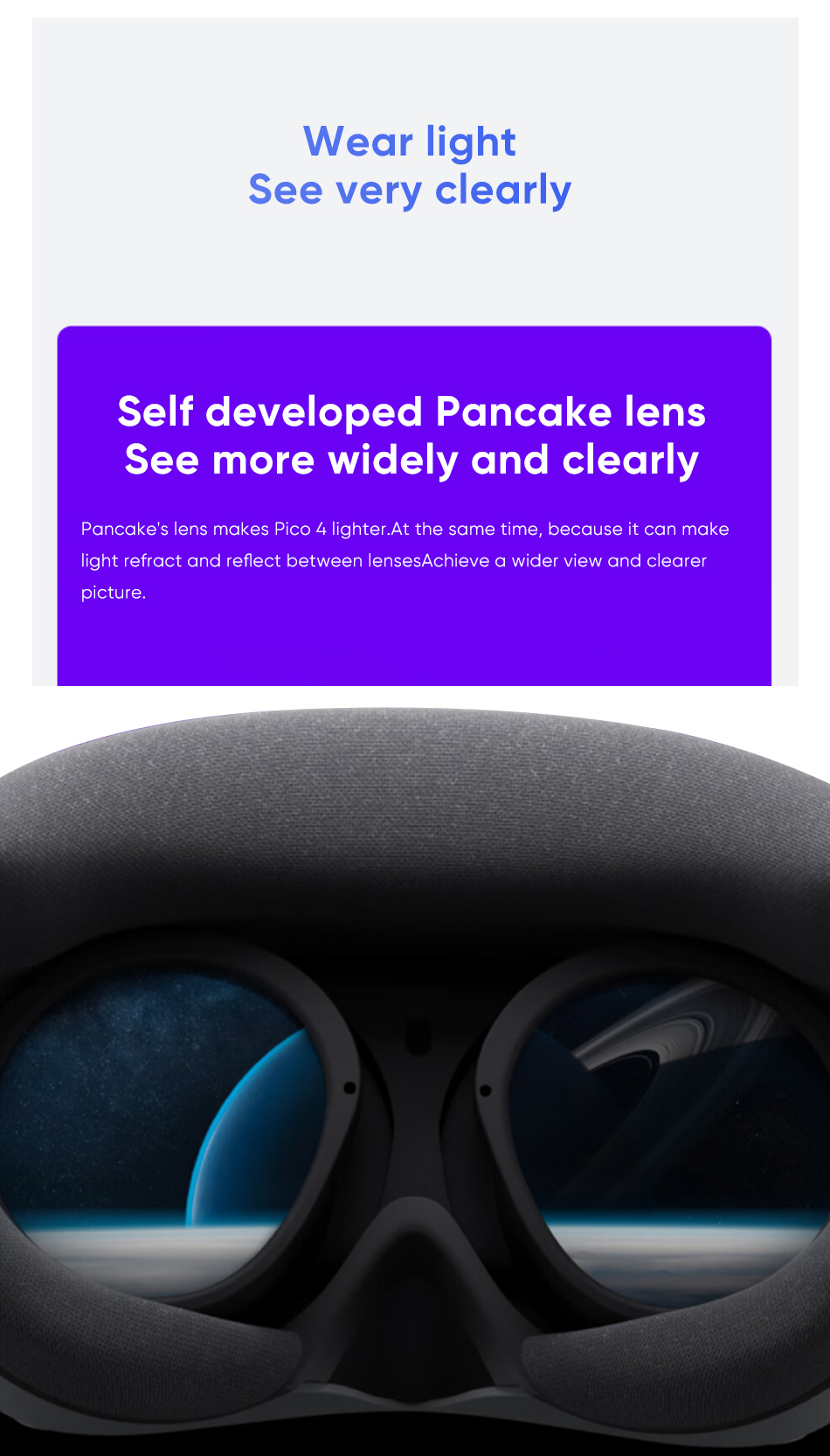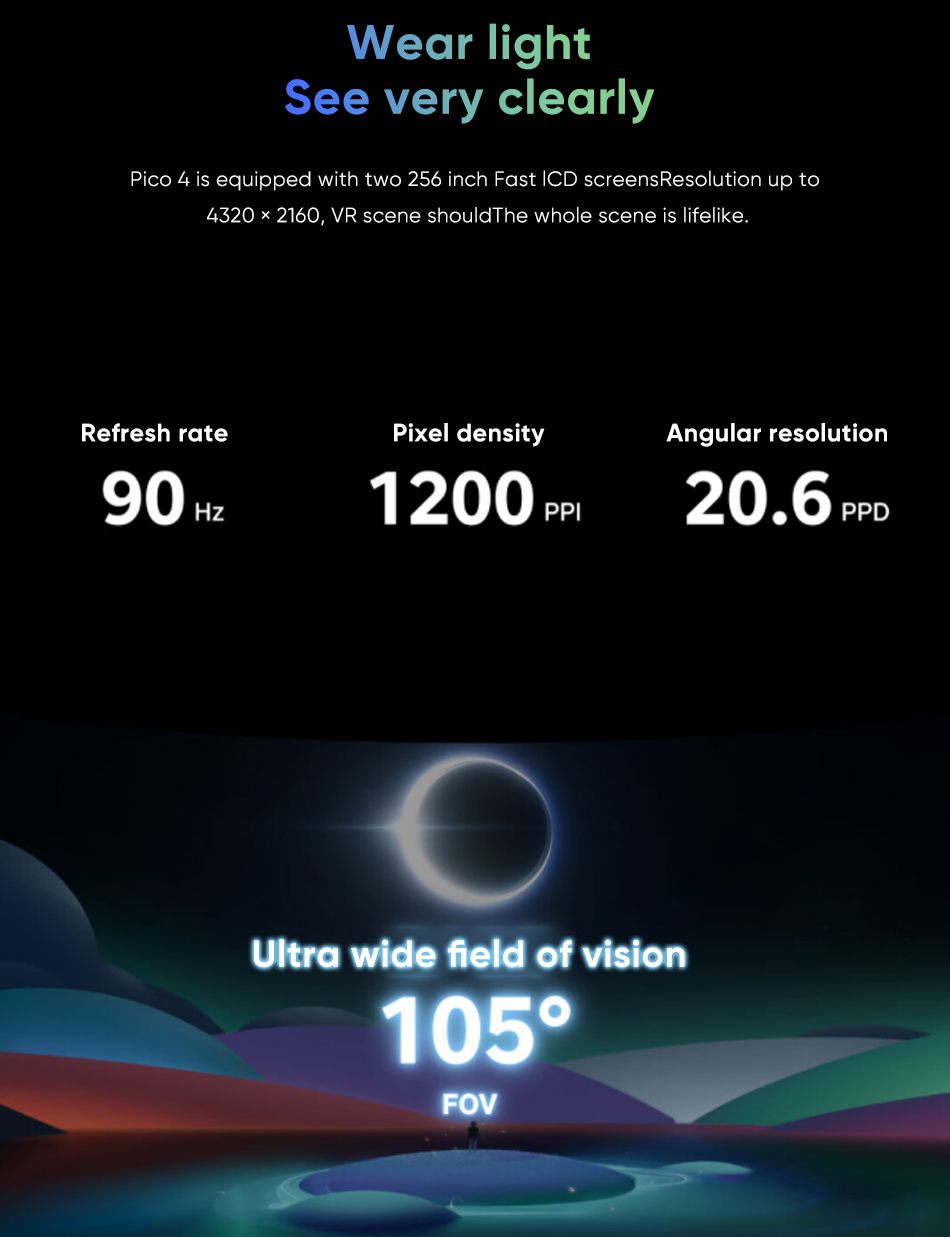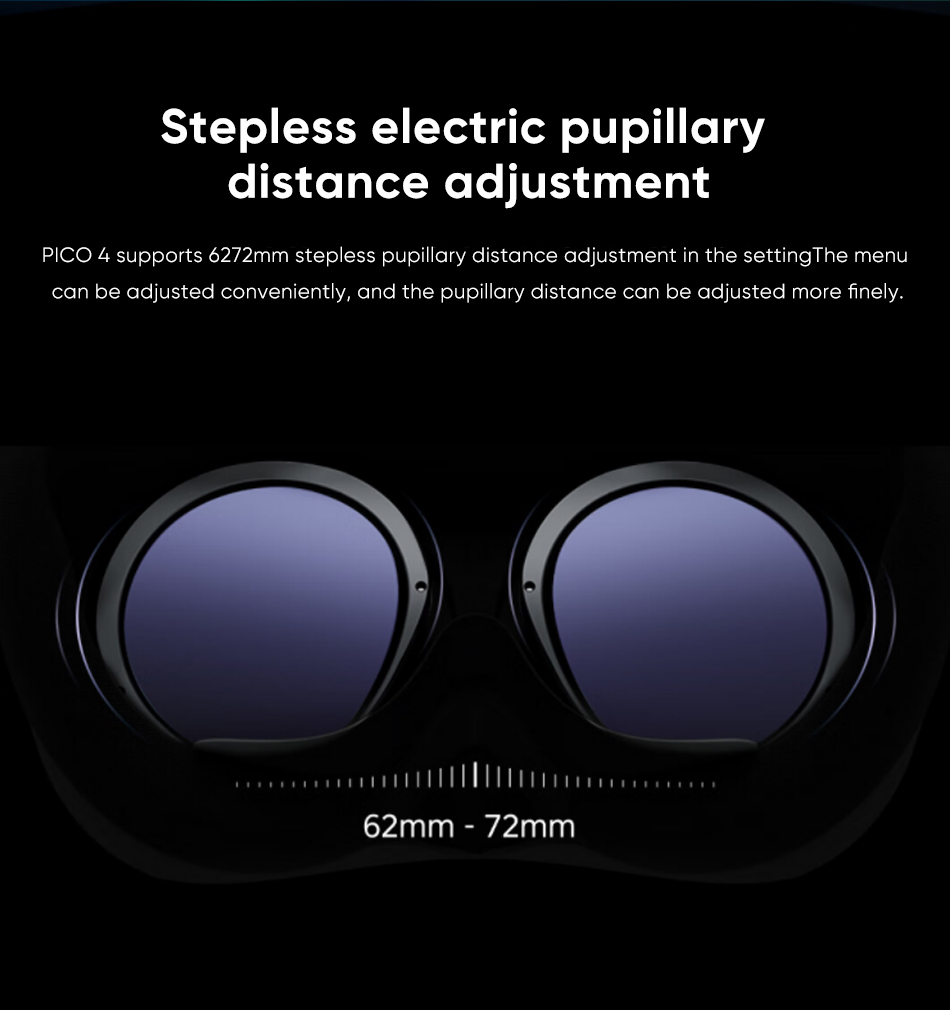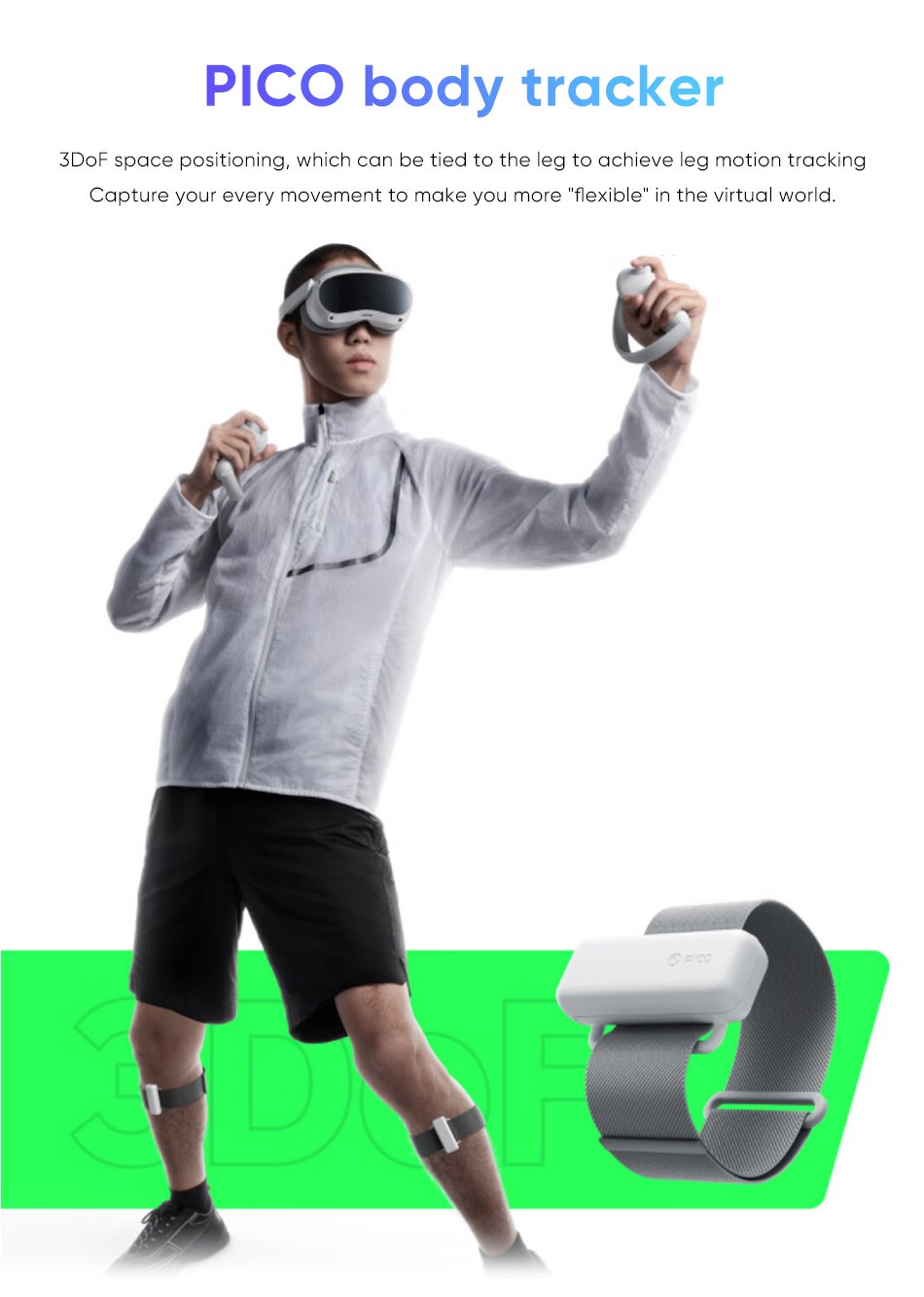 Quick Compare
Product Details
Product
PICO 4 8GB RAM 128GB ROM 3D Advanced All-In-One VR Headset
Razer Enki Gaming Chair
Sony PlayStation 5 Digital Edition Gaming Console
META Quest 2 256GB All-in-One VR System
Image
Price
51,900৳
50,000৳ 48,000৳
70,000৳ 56,900৳
61,490৳ 57,490৳
Model
pico 4
Enki
Sony ps5 digital edition
META-Quest-2
Brand
Pico
Razer
Sony
OCULUS
Availability
In Stock
In Stock
In Stock
In Stock
Rating


Based on 0 reviews.


Based on 0 reviews.


Based on 1 reviews.


Based on 0 reviews.
Summary
Pico 4 VR Headset 128GB Global version ..
Specification Main Features Materials EPU Synthetic LeatherBase: Aluminum baseFrame: Steel frameHigh density PU moulded foam Adjustable Armrests 4D Adjustable Armrests Chair Type Gaming chair Adjustable Backrest Angle/ Recline 152 Degrees Max Load < 136 kg (< 299 lbs) Diameter of Base Aluminum base Height Adjustability Recommended Height: 166.5 cm - 204 cm Head Rest Premium Memory Foam Head Cushion - Black Colors Green Others Chair Cover Color: Black and Green60 mm PU coated castersGas Lift Class: 4 Manufacture Warranty Warranty No warranty Description Razer Enki Gaming Chair The exclusive Razer Enki Gaming Chair comes with Dual-Textured, Eco Sustainable Synthetic Leather, Optimized Cushion Density, Reactive Seat Tilt, Built-In Lumbar Arch, Up to 152⁰ Recline. This Razer gaming chair is specially designed for all-Day Comfort. By achieving a sweet spot of comfort through optimal weight distribution. Designed for All-Day Comfort The Razer Enki Gaming Chair is a combination of its unique 110° extended shoulder arches and 21" ultrawide seat base, this Razer Enki ensures the optimal weight distribution for long-lasting comfort during gaming marathons. Built-In Lumbar Arch The Razer Enki's comes with Built-In Lumbar Arch. In this gaming chair, the lumbar curve gently supports your lower back and encourages you to sit in a neutral position. The Razer Enki allows you to maintain the right posture and your back to feel less fatigued when sitting for long periods. Optimized Cushion Density Razer Enki is designed with a softer seat base for a cushier feel, and a firmer seat backing for solid support, and also in this gaming chair, the cushioning complement one another to give you the best of both worlds for unparalleled comfort. Dual-Textured, Eco Sustainable Synthetic Leather The Razer Enki gaming chair is covered in a plush textured fabric for more refined comfort, while its outer edges are lined with smooth leather to better withstand daily wear and tear, to achieve the right mix of comfort and durability Reactive Seat Tilt and Up to 152⁰ Recline The Razer gaming chair's mechanism allows for intuitive, weight-adjusted tilting so that you can lean back and stay supported without having to fiddle with knobs or buttons. In this Razer gaming chair, its 152° adjustable recline offers flexible seat positioning that allows you to lay back as far as you want. The Razer gaming chair is designed with a Premium memory foam head cushion. The Razer Enki comes with a plush head cushion that can mold to the shape of your head and neck, To top off your all-day comfort, and also it provides cushy support to those key areas. This Razer Enki Gaming Chair has no warranty. ..
Sony PlayStation 5 Digital Edition Gaming ConsoleThe Sony PlayStation 5 Digital Edition Gaming Console is the latest addition to Sony's lineup of gaming consoles. This console is designed to provide gamers with an immersive gaming experience like never before, thanks to its powerful hardware and advanced features.The PlayStation 5 Digital Edition is a sleek and stylish console that comes in a black and white color scheme. It has a minimalist design that looks great in any gaming setup. The console is also compact, making it easy to store and transport.One of the standout features of the PlayStation 5 Digital Edition is its powerful hardware. It is equipped with a custom AMD Zen 2 processor that features eight cores and 16 threads. This processor is capable of running games at 4K resolution and 60 frames per second, providing gamers with stunning visuals and smooth gameplay.The console also comes with 16GB of RAM, which ensures that games load quickly and run smoothly. This means that you can enjoy fast-paced games without any lag or stuttering.In terms of input/output, the PlayStation 5 Digital Edition features a USB-C port, two USB3.1 Gen 2 ports, and a USB2.0 port. It also has an HDMI port and supports DisplayPort. This allows you to connect a variety of devices to the console, such as external hard drives, controllers, and monitors.The PlayStation 5 Digital Edition also comes with LAN, WiFi, and Bluetooth connectivity. This means that you can connect to the internet and play games online, or connect to other devices such as headphones and speakers.Features:Integrated I/OThe custom integration of the PS5 console's systems lets creators pull data from the SSD so quickly that they can design games in ways never before possible.Stunning gamesMarvel at incredible graphics and experience new PS5 features.Ultra-high speed SSDMaximize your play sessions with near-instant load times for installed PS5 games.HDR technologyWith an HDR TV, supported PS5 games display an unbelievably vibrant and lifelike range of colors.8K outputPS5 consoles support an 8K output, so you can play games on your 4320p resolution display.4K TV gamingPlay your favorite PS5 games on your stunning 4K TV.Up to 120 fps with 120Hz outputEnjoy smooth and fluid high frame rate gameplay at up to 120 fps for compatible games, with support for 120Hz output on 4K displays.Tempest 3D AudioTechImmerse yourself in soundscapes where it feels as if the sound comes from every direction. Through your headphones or TV speakers, your surroundings truly come alive with Tempest 3D AudioTech in supported games.Haptic feedbackExperience a haptic feedback via the DualSense wireless controller in select PS5 titles, and feel the effects and impact of your in-game actions through the dynamic sensory feedback.Adaptive triggersGet to grips with immersive adaptive triggers, featuring dynamic resistance levels which simulate the physical impact of in-game activities in select PS5 games.Sony PlayStation 5 Digital Edition Gaming Console Review:..
Features of META Quest 2 Gaming Console In Bangladesh Brand - META, Model - META Quest 2, Type - VR System, Item Category - VR System, Ram - 6GB, Storage - 256GB, Dimension - 224 x 450mm, Others - TRACKING: Six Degrees of Freedom - With 6DOF, the headset tracks the movement of both your head and body, then translates them into VR with realistic precision. No external sensors required. CONTROLLERS: Redesigned Touch Controllers - Meta Quest 2 Touch controllers have been upgraded with improved ergonomics. A new thumb rest adds stability when needed. HEAD STRAP: Soft Strap - Designed to offer lightweight comfort for any type of player. This soft strap can be easily adjusted or upgraded with Meta Quest accessories. OPTICS: Specifications - Fast-Switch LCD Display, 1832 x 1920 Resolution Per Eye, 60, 72, 90 Hz Refresh Rate Supported, Glasses Compatible. Sound: Positional Audio - 3D positional audio is built directly into the headset, allowing you to hear whats all around you. The 3.5 mm audio port lets you play with or without headphones. IN THE BOX - Two Touch Controllers & AA Batteries, VR Headset , Charging Cable & Power Adapter, Glasses Spacer., Feature - META QUEST 2 - Hundreds of hit games, one-of-a-kind experiences and a growing community awaits you on Meta Quest 2., Warranty - No Warranty..