Video Memory Specifications
Memory Size
6G
Memory Type
GDDR6
Product Model
GTX 1660 Super
Core Clock
1530MHz
Memory Bus (Bit)
14000MHz
BUS Type
192bit
CUDA Cores (Nvidia)
1408
Interface
Display Port
3x DP
Power Specifications
Recommended Power Supply
1660
Display Option
Ports
DP+HDMI+DVI
Physical Specifications
Dimensions
220×112×40mm
WARRANTY INFORMATION
Warranty
3 years official warranty, 2 years manufacturer warranty + 1-year local service warranty.
PELADN GTX 1660 Super 6G GDDR6 192bit Gaming Graphics Card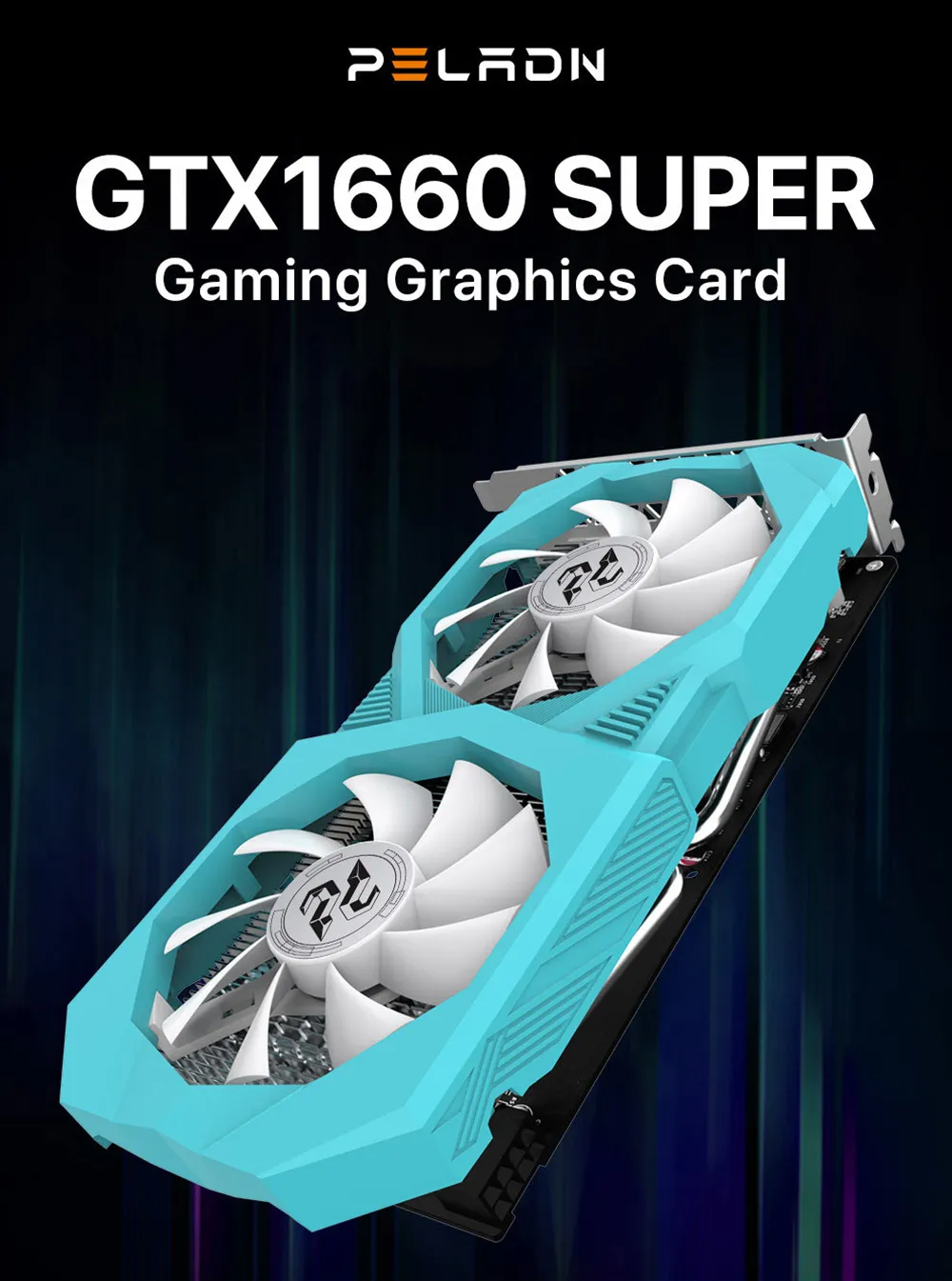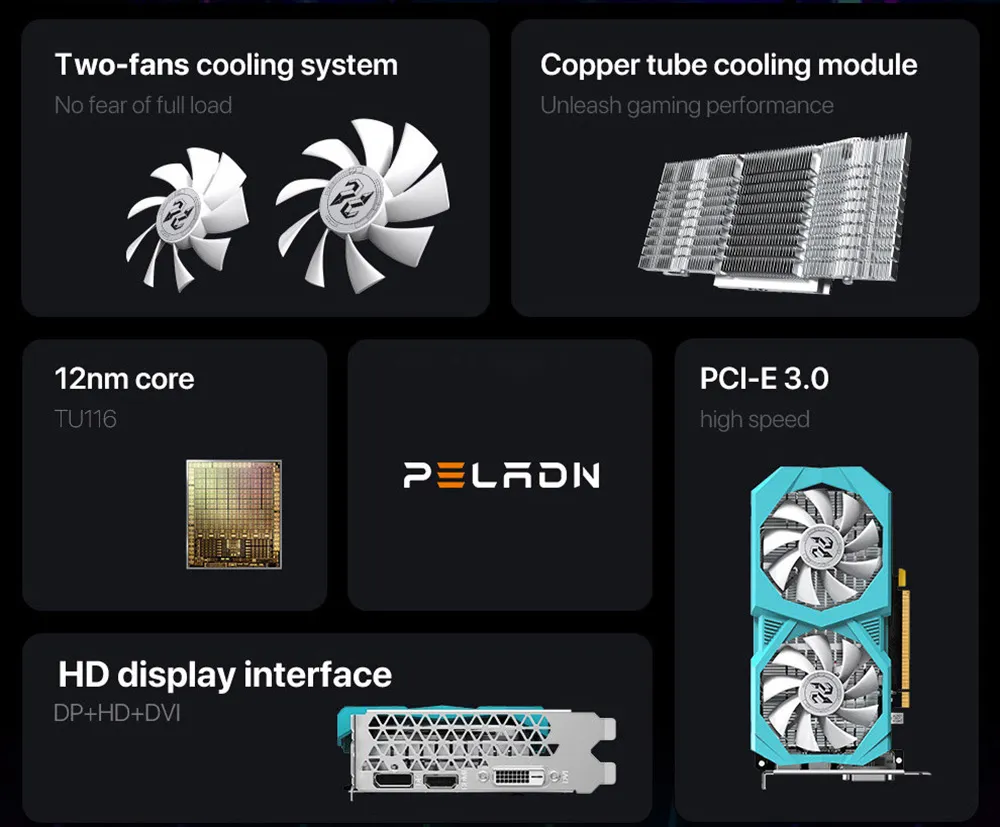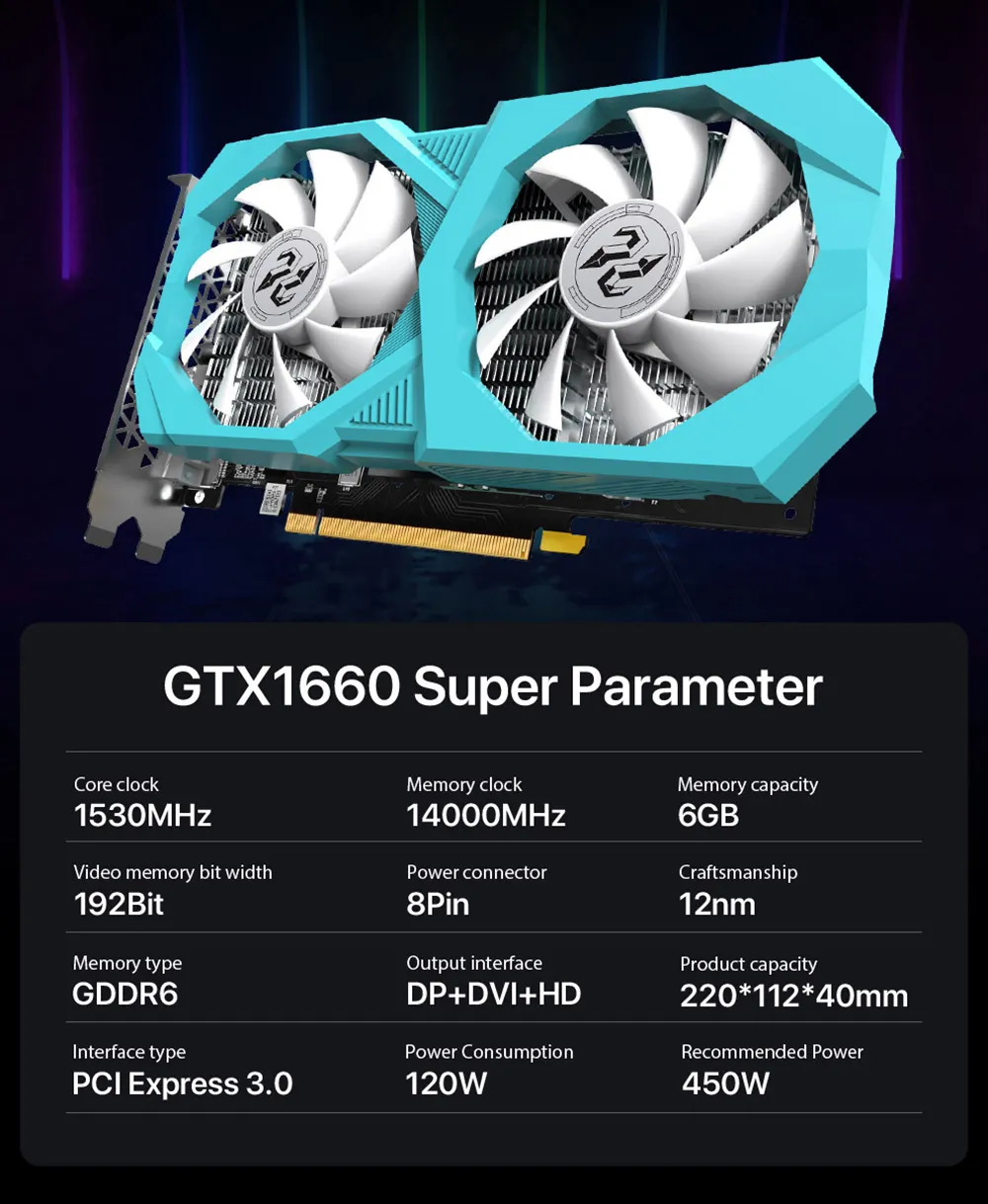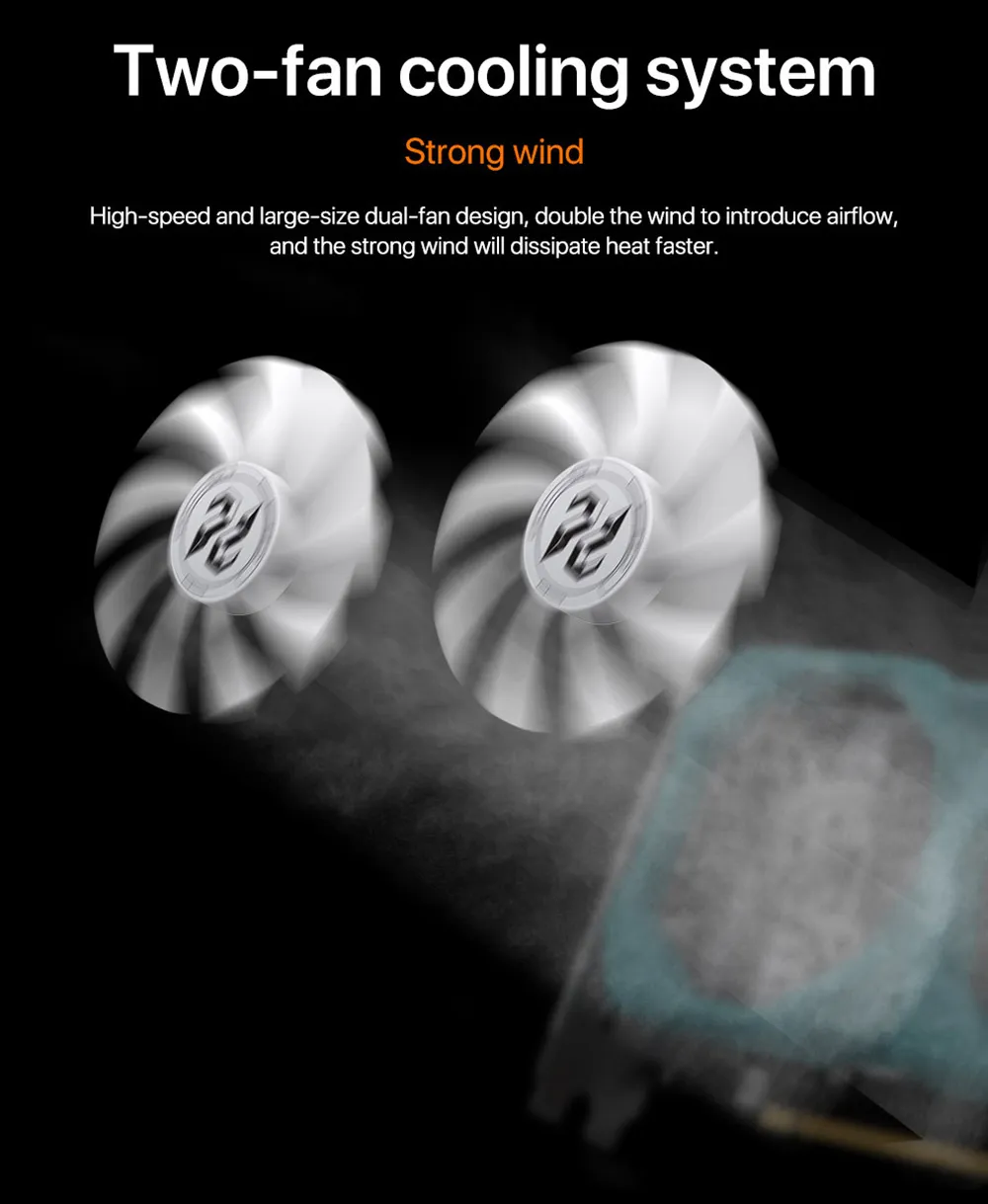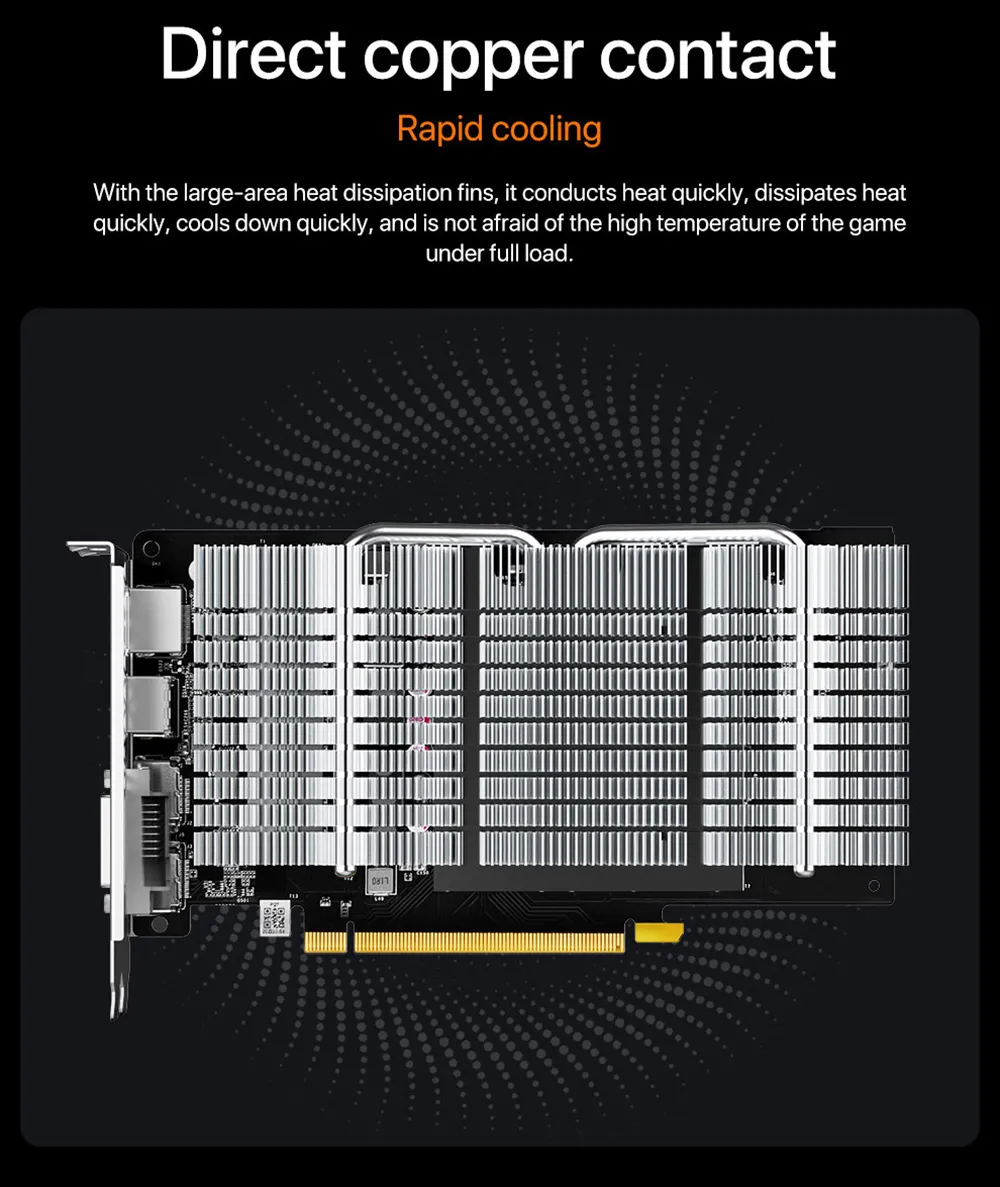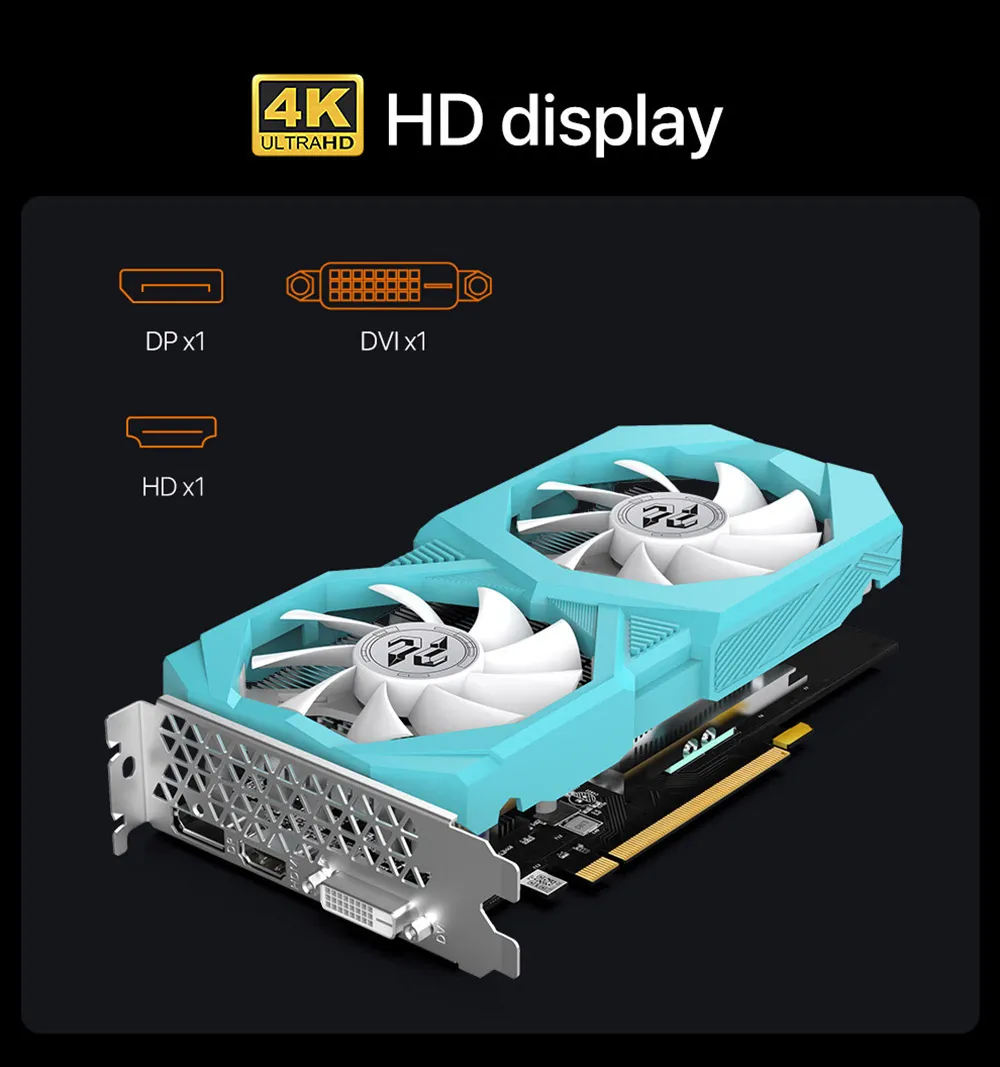 See More Graphic Crad
PELADN GTX 1660 Super 6G GDDR6 192bit Gaming Graphics Card review :
Quick Compare
Product Details
Product
PELADN GTX 1660 Super 6G GDDR6 192bit Gaming Graphics Card
MSI GeForce GTX 1650 VENTUS XS 4G OC Graphics Card
Zotac Gaming GeForce GTX 1650 OC 4GB GDDR6 Graphics Card
ASUS GeForce GTX 1650 Dual OC Edition 4GB GDDR5 Graphics Card
Image
Price
21,999৳
23,100৳ 21,990৳
23,100৳ 21,890৳
35,000৳ 22,400৳
Model
GTX 1660 Super
GeForce GTX 1650 VENTUS XS 4G OC
Zotac Gaming GeForce GTX 1650 OC
GTX 1650 Dual OC
Brand
PELADN
ZOTAC
ASUS
Availability
In Stock
In Stock
In Stock
In Stock
Rating


Based on 2 reviews.


Based on 0 reviews.


Based on 0 reviews.


Based on 0 reviews.
Summary
PELADN GTX 1660 Super 6G GDDR6 192bit Gaming Graphics Card See More Graphic CradPELADN GTX 1660 Super 6G GDDR6 192bit Gaming Graphics Card review :..
MSI GeForce GTX 1650 VENTUS XS 4G OC Graphics Card Easily upgrade your PC and get the game ready with performance that's up to 2X the GeForce GTX 950 and up to 70% faster than the GTX 1050 on the latest games. Capture and share videos, screenshots, and live streams with friends. Keep your GeForce drivers up to date. And optimize your game settings. GeForce Experience lets you do it all. It's the essential companion to your GeForce graphics card. A fresh new dual fan design, VENTUS proudly displays its industrial shapes in neutral colors to fit any build. Aluminum extruded heat sink maximizes direct contact area with the GPU and memory in order to transfer heat efficiently. Enhances heat dissipation by guiding the airflow to PCB through heat sink sections. MSI Afterburner is the world's most recognized and widely used graphics card Overclocking software. It gives you full control of your graphics card and enables you to monitor your system's key metrics in real-time. The latest version of MSI Afterburner features OC Scanner for GTX 16 series graphics cards. OC Scanner is an automated function that will find the highest stable overclock settings for your card. Giving you a free performance boost for a smooth in-game experience thanks to higher FPS. The smoothest, fastest, and most exciting gaming experience ever by eliminating screen tearing, display stutter, and input lag. Ultra-high resolution (UHD) delivers 4x the resolution of 1080p content, enabling much sharper and crisper images with delicate details during gaming. High Dynamic Range (HDR) enhances your gaming world with higher contrast and brighter colors than you've ever seen before. Developed under an exclusive partnership with BlueStacks, the MSI APP Player brings a seamless gaming experience between mobile games and PC platforms and leverages customized features as specific keyboard lighting and better graphics with multi-task works. ..
Zotac Gaming GeForce GTX 1650 OC 4GB GDDR6 Graphics CardZotac Gaming GTX 1650 OC 4GB GDDR6 Graphics Card keeps your drivers up to date and optimize your games. Get the highest levels of performance, and the smoothest experience possible, from the moment you start playing. Small powerhouse design. No need to ask "Will it fit?" Discover next-generation VR performance, low latency, and plug-and-play compatibility with leading headsets. Direct copper contact for maximum heat extraction. Full body heatsink for maximum heat dissipation. Static Pressure Optimized design improve airflow staying power. Equipped with a 90mm single fan, the largest fan our engineers could squeeze in for powerful cooling while still conforming to the standard card height. A specially designed aluminum sunflower heatsink with direct GPU contact enable a natural even heat distribution from the center core to the outer edges for efficient cooling. The striped fan blades break the flow of air into smaller channels enabling a more optimized flow and quieter rotation while the deep angled blade increases downward pressure. Powered only by the PCIe bus means no additional power supply connection needed. Less wires, less clutter. Just drop it in and secure it down for a simple and clean install. Introducing the all-new ZOTAC GAMING FIRESTORM. Freshly designed with a more intuitive and minimal interface so you can get in and out quickly. Fine tune your ZOTAC GAMING Graphics Card with enhanced intelligence, adjust the SPECTRA lighting, or simply monitor the hardware status with the new FIRESTORM utility...
Asus GTX 1650 Dual OC Graphics CardThe ASUS GTX 1650 Dual OC Graphics Card Provides Improvements In Performance, Memory Bandwidth, And Power Efficiency Over Its Predecessor Based On The Pascal Architecture.The Front Panel Of The Card Features A Variety Of Outputs Including DisplayPort 1.4, HDMI 2.0b, And DVI-D Dual-Link. The ASUS GTX 1650 Dual OC Graphics Card Is Not Just About High-Resolution Gaming; Computationally Intensive Programs Can Utilize The GPU's 896 Cores To Accelerate Tasks Using CUDA Or Other APIs.For Cooling, ASUS Implemented Dual Wing-Blade Fans. The Patented Wing-Blade Design Delivers Maximum Air Flow And Improved 105% Static Pressure Over The Heat Sink While Also Operating Quieter Than Reference Cards. The Fans Also Have IP5X Dust Resistance Seals.Boosts The Card's Clock Speed In Real-Time Based On The Target Temperature. If The Card Is Running Below The Set Target Temperature, GPU Boost 4.0 Will Increase The Clock Speed To Improve Performance. The Target Temperature Can Be Reset Depending On Your Preference So You Can Have The Card Run More Quietly For Everyday Tasks And Older Games And Run At Full Tilt During Intense High-Resolution Gaming Sequences.With Ansel, Gamers Can Compose The Gameplay Shots They Want, Pointing The Camera In Any Direction And From Any Vantage Point Within A Gaming World. They Can Capture Screenshots At Up To 32 Times The Screen Resolution And Then Zoom In Where They Choose Without Losing Fidelity. With Photo-Filters, They Can Add Effects In Real-Time Before Taking The Shot And They Can Capture 360-Degree Stereo Photospheres For Viewing In A VR Headset Or Google Cardboard.2x Fans. 2x Fun.Dual Graphics Cards Are All About Maximum Efficiency. The Recipe Is Simple; Strip Off Features That Don't Affect Performance And Mix In Two Powerful Dust Resistant Fans With PCB Components That Are Mounted Utilizing An Automated Manufacturing Process. The Result Is A Machine Tuned Purely For Lasting Performance, Making The ASUS Dual GeForce® GTX 1650 A Solid Introduction To The Latest Generation Of Graphics Performance.IP5X Dust ResistanceKeep It CleanDust Is Enemy Number One For Fans. It's Easy To Clean The Blades, But Taking The Fan Apart To Remove Dust That Has Made Its Way Inside Is Not A Simple Task. IP5X Certification Keeps Nasty Particulates Out Of The Housing, So You'll Never Need That Deep Clean.Auto−Extreme TechnologyPrecision Automated ManufacturingAuto-Extreme Technology Is An Automated Manufacturing Process That Sets New Standards In The Industry By Allowing All Soldering To Be Completed In A Single Pass. This Reduces Thermal Strain On Components And Avoids The Use Of Harsh Cleaning Chemicals, Resulting In Less Environmental Impact, Lower Manufacturing Power Consumption, And A More Reliable Product Overall.GPU Tweak IIMonitor, Tweak, And TuneThe ASUS GPU Tweak II Utility Takes Graphics Card Tuning To The Next Level. It Allows You To Tweak Critical Parameters Including GPU Core Clocks, Memory Frequency, And Voltage Settings, With The Option To Monitor Everything In Real-Time Through A Customizable On-Screen Display. Advanced Fan Control Is Also Included Along With Many More Features To Help You Get The Most Out Of Your Graphics Card...
Product List
| | |
| --- | --- |
| Best PELADN Graphics Card Price List 2023 | Price |
| PELADN RX 580 8G 256Bit Dual Fans Gaming Graphics Card | 13,499৳ 15,600৳ |
| PELADN RX 5500 XT 8G GDDR6 128 Bit Gaming Graphics Card | 15,499৳ 21,500৳ |
| Peladn RX 5600 6G D6 192 bit Graphic Card | 20,500৳ 22,000৳ |
| PELADN RTX 3070 8G BAIKAI GDDR6 DESKTOP GRAPHICS CARD | 49,800৳ 59,400৳ |
| PELADN RTX 2060 SUPER 8G GDDR6 Graphics Card | 28,400৳ 34,500৳ |
| PELADN RTX 2080 SUPER 8G GDDR6 256 BIT GAMING GRAPHICS CARD | 44,400৳ 49,400৳ |
| PELADN RTX 2070 SUPER 8G GDDR6 256 BIT GAMING GRAPHICS CARD | 37,900৳ 40,900৳ |
| PELADN RTX 3070TI 8G TAICHI OC GDDR6 GAMING GRAPHICS CARD | 59,800৳ 68,500৳ |
| PELADN GTX 1660 TI 6G GDDR6 192BIT DUAL FANS GAMING GRAPHICS CARD | 21,500৳ |
| PELADN GPU RX 550 4G Gaming GDDR5 128 Bit Graphics Card | 9,900৳ |