Specification
RAM
Bus-Speed
3200MHZ
Capacity
8GB
Latency
CL19
Memory Type
DDR4
Number-of-Pin
288
Voltage
1.2v
WARRANTY INFORMATION
Warranty
3 years
Description
AITC 8GB DDR4 UDIMM 3200MHZ DESKTOP RAM

Rigorously Selected Original IC chips
Selected high-quality components plus a high degree of compatibility guarantee, the entire process of strict testing meets the international JEDEC regulations.
Superior Technique & Excellent Performance
VALUES series are made with 8 layers PCB of e-sports and gold plating crafts. Operate in low voltage. Make excellent power saving, electric conductivity and durability.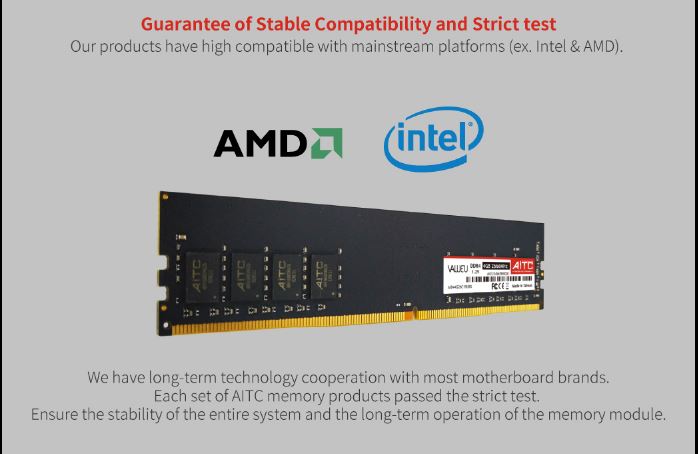 Guarantee of Stable Compatibility and Strict test
Our products have high compatible with mainstream platforms (ex. Intel & AMD).We have long term technology cooperation with most motherboard brands. Each set of AITC memory products passed the strict test. Ensure the stability of the entire system and the long-term operation of the memory module.
The AITC KINGSMAN DDR4 3200MHz Desktop RAM gives your PC a colorful rhythm light speed experience. It features exclusive colorful symphony breathing light with lighting effect control firmware that lets players feel "personality change colors. The AITC KINGSMAN is compatible with mainstream platforms (ex. Intel & AND). The AITC KINGSMAN 8GB DDR4 3200MHz Desktop RAM has a lifetime warranty.

What is the price of AITC 8GB DDR4 UDIMM 3200MHZ DESKTOP RAM in Bangladesh?
The latest price of AITC 8GB DDR4 UDIMM 3200MHZ DESKTOP RAM in Bangladesh is ৳ 4,800 . You can buy the AITC 8GB DDR4 UDIMM 3200MHZ DESKTOP RAM at best price from our website & visit our Facebook Page